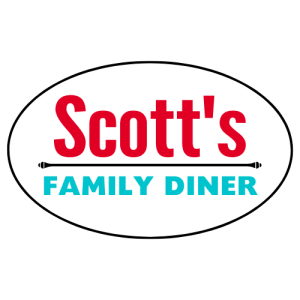 Scott's Family Diner
One of the top reasons to stay with us is our incredible on-site restaurant, Scott's Family Diner! Popular with guests and locals alike, our charming restaurant provides guests with quality food made with fresh, local ingredients in a family-friendly setting. Guests rave about our delicious meals, and we are proud to have been serving the Kamloops community for over sixty years! We offer vegan and vegetarian options , as well as gluten free items on our menu. Please ask our service staff if you have any questions.
About The Restaurant
Open daily for breakfast, lunch, and dinner, you will always find the perfect meal to fit any craving at Scott's Family Restaurant. Whether you are looking to enjoy one of our juicy burgers or a full roast beef dinner, we've got it all! We are proud to offer a diverse menu that will have something that everyone can enjoy. With our always-changing daily breakfast, lunch and dinner specials it's hard to pick just one favourite from our menu. Be sure to ask our knowledgeable service staff if you have any questions about our menu, and for their personal recommendations.
Breakfast
If you are looking to enjoy a classic breakfast, you have come to the right place! Whether you're looking for Eggs Benedict, or Steak and Eggs – we've got something on the menu for you! Watch out for our daily breakfast specials to start your day off right.
Seniors Night Every Night
That's right! Every night is Senior's night! Visitors 65+ can enjoy a special senior's menu after 4 PM every day! Guests can choose one of our 10 favourite entrées, along with complimentary soup for just $17.95. We look forward to serving you.
Whether you're staying with us at Scott's Inn & Restaurant or are just looking to enjoy some delicious, quality, home-cooked food in the area, we look forward to welcoming you to our restaurant. Our food is made with the freshest ingredients, sourced locally. We are proud to be rated as one of the best Restaurants in Kamloops BC. Our restaurant also offers a patio area to enjoy when the sun is shining. We are licensed, and offer a range of various local BC Wines and beer, as well as numerous other offerings.
Policies | Reviews | Facebook | Instagram | Tripadvisor